It's summertime in Philly – and you just happen to live in one of the best neighborhoods to enjoy it in: Fairmount. Why is it one of the best, you ask? Because of the ridiculously gorgeous outdoor options you have to explore here. Here are four of our favorites, below:
Rodin Museum Garden: Open, for free, to the public year-round, The Dorrance H. Hamilton Garden surrounding the Rodin Museum at 2151 Benjamin Franklin Parkway is a site to behold. You can even see more than a few of Rodin's most famous works from your garden perch, including The Thinker at his post just out front, and the stunningly intricate The Gates of Hell up the stairs leading into the museum. There are a total of eight works in all in the garden alone, and the museum itself is actually Pay What You Wish admission ($10 suggested donation). Look closely at those sculptures next time you visit. Rodin was a master of capturing the physical effects of intense human emotions in the body.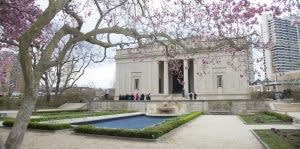 Rodin Museum – Designed by French architect Paul Cret (1876–1945) and French landscape designer Jacques Gréber (1882–1962). Its founder, Jules E. Mastbaum, gave the Museum to his native city as a gift. Photo: Philadelphia Museum of Art.
Philadelphia Museum of Art Gardens: Yet another famous Philly museum, with another maybe slightly less famous but equally well-worth-seeing garden. Just beyond the west entrance of the museum, it's also another way to explore some famous works for free, as you can stroll through the museum grounds anytime. While there are quite a few works always on display, the museum also displays rotating exhibitions of sculptures. Currently, the Anne d'Harnoncourt Sculpture Garden is playing host to two large scale works by Ursula von Rydingsvard, on view through April 2019. It's also a perfect starting point for continuing on into Fairmount Park, just a short distance away.
Giant Three-Way Plug (Cube Tap), by Claes Oldenburg, 1970. Cor-Ten steel, bronze, 117 x 78 x 58 inches. Gift of Mr. and Mrs. David N. Pincus in memory of Anne d'Harnoncourt, 2010. Edition 3/3
Martin Puryear's Pavilion in the Trees: Hidden in the wilds of Fairmount Park is the Puryear Pavilion, a little oasis in the trees created by artist Martin Puryear. The bridge and bench offer an above-ground view of the tree-scape below. While the Pavilion is currently closed due to damage – a tree fell on it last year – it will be undergoing repairs by the Fairmount Park Conservation team in the coming months. Once this beauty is back in full running order, it's just begging for an afternoon picnic to welcome it back.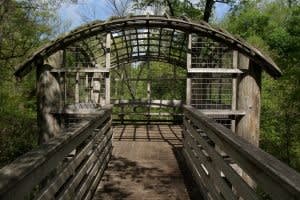 Photo of Puryear Pavilion courtesy of Fairmount Park Conservancy
Shofuso: This one is another Fairmount Park treasure. A tour of the Shofuso Japanese House and Garden is about as relaxing as it gets in the city. Just strolling through the grounds will do the trick, but the house also hosts tea ceremonies and other events year-round. We recommend also paying a visit to those adorable koi in the pond out back!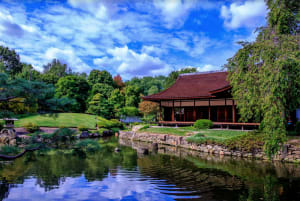 Photo of Shofuso courtesy of Jeff Fusco for Visit Philadelphia
What's your favorite hidden outdoor nook in Fairmount? Share it with us in the comments below!
Do you have questions about the Fairmount neighborhood? Ask Stephen Dougherty, anytime. He loves sharing his knowledge of the area with old and new residents (and potential future residents!) alike. 215-485-0082 or https://www.localphillyliving.com/contactus/